Band Saw Handbook Paperback: 320 pages by Mark Duginske
1,000 illustrations and step-by-step instructions offer a complete course in cutting basics: curve and circle work, straight cuts, unusual designs, and advanced techniques
£8 including free postage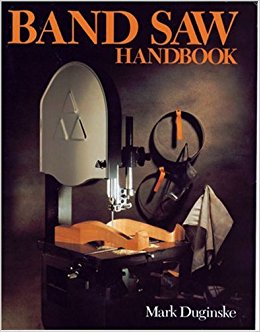 ---
Band Saw Fundamentals: The Complete Guide (Popular Mechanics Workshop)
Excellent, as new, condition.
This Popular Mechanics Workshop book covers every aspect of the always practical band saw, from choosing the right one (be it portable or bench-top, open or closed base) to basic and advanced techniques. Learn about its capabilities, different motors, and useful accessories, as well as how to make a variety of simple and compound cuts. See also how to construct shop-made jigs and fixtures, and maintain the saw for long life. Beautiful projects include a letter opener, a box with a drawer, a curved stationery box and a cabriole-leg stool. 192 pages with color photos. Paperback.
£8 including free postage
---
Success with the Scrollsaw Hardcover 1997 by Zachary Taylor (Author)
Excellent condition.
This collection of ten projects is aimed at the woodworker, experience or not, who uses, or is intending to use, a scrollsaw. The projects are presented with easy-to-follow diagrams and photographs, and topics include history and development, models available, and advice on materials and workshops.
£8 including free postage
---
Scroll Saw for the first time. Paperback by Dirk Boelman (Author)
Excellent condition.
From the most fundamental query "How do I get started?" – it moves on to questions such as "How do I attach a pattern onto the wood and then cut a basic shape?" and "How do I make a simple jigsaw puzzle?" Go beyond the basics and expand your skills, with instructions for fashioning a Fleur-de-lis Wall Shelf with an attractive support bracket, making a "Mighty Moose" clock, and crafting 3-D bunnies, baskets, and tulips. Includes many practical, eye catching projects.
£10 including free postage
---
The New Scroll Saw Handbook. Paperback by Patrick Spielman (Author)
Good condition.
The world's leading scroll saw expert offers a masterful comprehensive reference covering the equipment, materials, and artistry, from time-honoured methods to critiques of the latest machines and accessories. A bestseller in its classic first edition for 15 years, the guide's massive technical updates and new sections make an even more valuable contribution, with simplified instructions on ways to apply the latest innovations and how to make the best projects from the past even better. Sections on current models and major parts of the scroll saw; accessories; how to select a saw; blades, speeds, & feeds; safety techniques & guidelines; patterns & layout; scroll-sawing basics; stack-cutting & cutting thick wood; sawing thin & small stock; compound sawing; inlay work; marquetry basics; fine fretwork; appliques & overlays; joinery; sawing plastics; sawing metals; segmentation & intarsia; finishing basics.
£8 including free postage