I'm just about to start restoring a Wadkin Bursgreen 12AGS table saw, which I purchased from a nearby joinery works. It was described as working order but I'm not sure how they cut anything with it as the rise & fall & tilt mechanism was seized solid with rust and resin. Also the bearings in the 3-phase motor were badly worn and noisy. So if someone had purchased it and expected it to be ready for work, they'd have been very disappointed.
Fortunately I wanted to completely dismantle it and restore it to new condition, so it was perfect for me. The Wadkin table saws are tough, long lasting machines and under the rust and dirt it's all good and ideal for restoration.
(click on any image to enlarge)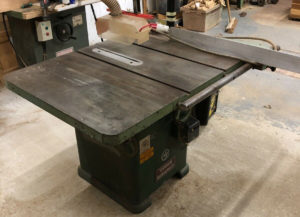 Table and table extensions, fence and fence rail removed showing trunnion assembly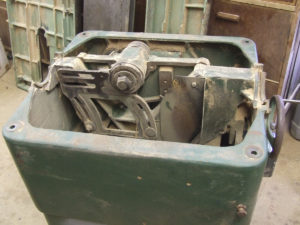 It's now all stripped down ready to de-rust, clean, polish, paint etc.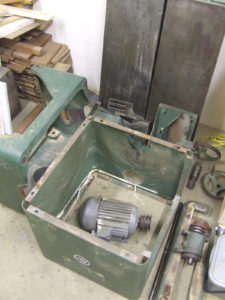 Decided to replace the arbor bearings on this Wadkin 12AGS table saw, and at the same time thoroughly overhaul the whole arbor assembly. I have never encountered such stubborn bearings; a real struggle to get them off the shaft. The machine is probably 40 years old and I wouldn't be surprised if they were the original bearings.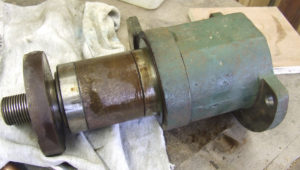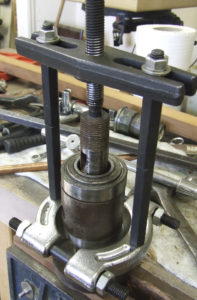 Image below shows the arbor assembly completely restored to new condition, including two new arbor bearings.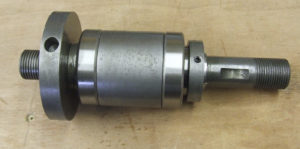 Then the arbor assembly is pressed into the spindle housing, which also incorporates the Riving knife pivot bracket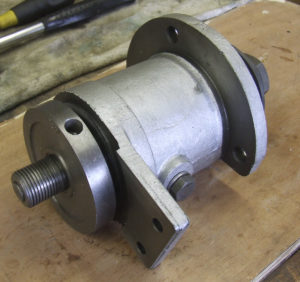 And the spindle pulley replaced.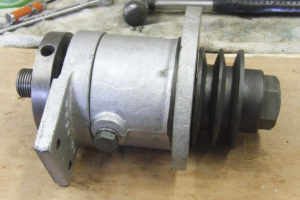 Now all the restoration work is complete I can start reassembling the machine
This image of the interior of the restored cabinet shows the canting shaft and worm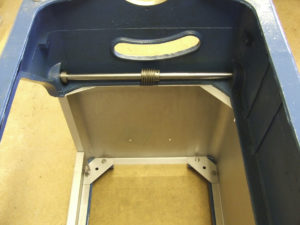 And now the Trunnion bracket is refitted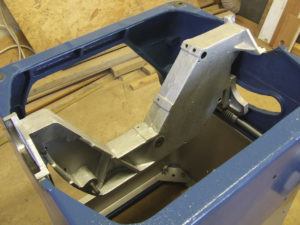 A few more parts installed along with a new 3-phase dual-voltage 3hp electric motor, and a pair of new vee belts.
The tables have been cleaned and de-rusted and although they are nice and flat they are stained pretty bad and not finished as well as I would have liked.
Front rail and fence refitted and the machine is pretty well complete, apart from a few small minor details such as the swivel handles to fit, and once I've checked fence alignment then it will be ready to use.
I'm not fitting the on/off switch to the machine but instead I'm fixing it on the adjacent wall as it's much easier to access.