Portamate PM-P254 Router Motor
This router has only had very light use and is in as-new condition.
The Portamate PM-P254 Router has a powerful 3 ¼ HP motor, variable speeds from 10,000 to 22,000 RPM and is perfect for the router table.
The Portamate is an excellent router motor, except for the bearings, which have been replaced with top quality SKF Shielded Deep Groove Ball Bearings. Now it runs extremely smoothly, is quieter and will give many years service.
Price
£145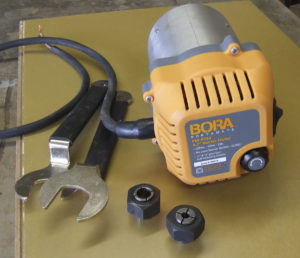 Compatible with all router lifts that cater for a 3.5in diamer router motor such as:
JessEm Rout-R-Lift
Woodpeckers PRL V2 precision router lift
INCRA Mast-R-Lift
KREG Precision Router Table Lift
Rockler Pro Router Lift
MLCS 9562 Router Lift